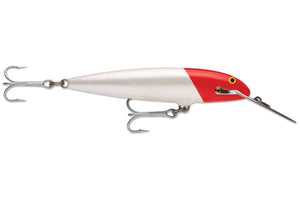 RAPALA COUNTDOWN MAGNUM CDMAG 14 cm RH (Red Head) color
All time favourite RH colour on this size 14 cm sinking Magnum. Rare colour on this type of lure! All the lures are brand new in unopened boxes. The shipping is $6.99 for the first lure. We do combine shipping. 
The world's number one saltwater hardbodied lure and No. 1 choice for open water trolling. Controlled sinking rate is perfect for fishing suspended fish or submerged growth and structure. Deep diving lip with Rapala "wobble" action.
Super Tough Abachi Wood Construction
Controlled Sinking Model
Deep Diving Metal Lip
Anti-Broach Design
Rugged Stainless Hardware
Natural and Stimulator Patterns
VMC® Perma Steel® Hooks
Hand-Tuned & Tank-Tested
| Model | Running Depth | Body Length | Weight | Hooks |
| --- | --- | --- | --- | --- |
| CDMAG07 | 2.7-3.3 m | 7 cm | 12 g | Two No. 3 |
| CDMAG09 | 3.6-4.2 m | 9 cm | 17 g | Two No. 2 |
| CDMAG11 | 3.9-4.5 m | 11 cm | 24 g | Two No. 1 |
| CDMAG14 | 4.5-5.4 m | 14 cm | 36 g | Two No. 2/0 |
| CDMAG18 | 5.4-6.3 m | 18 cm | 70 g | Two No. 4/0 |
| CDMAG22 | 5.4-7.5 m | 22 cm | 100 g | Two No. 7/0 |