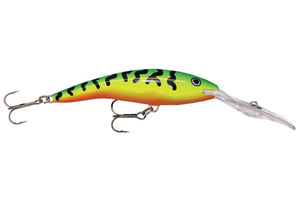 RAPALA DEEP TAIL DANCER TDD 7 cm FT (Firetiger) color
Great fish-catching colour FT on this Deep Tail Dancer size 7 cm. Estonian release. All the lures are new in box, perfect condition. Shipping is 5.99 USD and we do combine shipping.
The Deep Tail Dancer® features an enlarged, extreme diving lip that plummets the lure as deep as 12 meters unassisted. The banana-style body swims with a wide tail, dancing action that can only be created with balsa. Cast it or troll it deep for a large number of species worldwide.
Model
Running Depth
Body Length
Weight
Hooks
TDD07
4.5 m
7 cm
9 g
Two No. 5
TDD09
6 m
9 cm
13 g
Two No. 3
TDD11
9 m
11 cm
22 g
Two No. 3