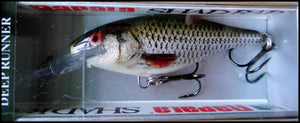 RAPALA SHAD RAP DEEP RUNNER SR 7 CM ROL (LIVE ROACH) COLOR
Beautifully realistic ROL colour on this Shad Rap size 7 cm. Estonian make. All the lures are brand new in unopened boxes. The shipping is $6.99 for the first lure. We do combine shipping.
The Shad Rap is equally effective whether cast or trolled and is designed to be fished from ultraslow speeds to super-fast with superior results.
| Model | Running Depth | Body Length | Weight | Hooks |
| --- | --- | --- | --- | --- |
| SR05 | 1.2-2.7 m | 5 cm | 6 g | Two No. 6 |
| SR07 | 1.5-3.3 m | 7 cm | 8 g | Two No. 5 |
| SR09 | 2.4-4.5 m | 9 cm | 15 g | Two No. 3 |